Call for International support with local resistance against Chevron in East Romania
December, 2nd, 2013.
Corporations cannot make the legislation!
In Pungesti, east romania, people are resisting Chevron's fracking efforts. After facing strong opposition from local community and from a strong trans-national movement of support, Chevron had to scale down activities in Pungesti. At least until Monday night, when the assault started around 6 AM!
The riot police and Chevron joined forces to dismantle the local resistance group camped across the road from the field where Chevron plans to explore for shale gas, using hydraulic fracturing. After 2 months of resistance, 40 people were beaten, arrested and taken to the nearest town for further investigations. The Spokesperson from the riot police did not come out with a statement until much later and denied any abuse, while the riot police officers prevented the people from filming and recording the intervention. Media representatives do not have access to the site, and the road to Pungesti is blocked by Chevron equipment and Police intervention cars.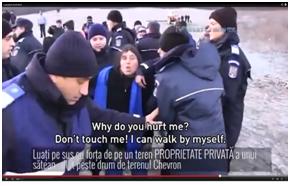 One personal account: "we made it to Pungesti. We can't stay in the camp anymore, it's full of police and gendarmes. On our way here, close to Pungesti, we passed many vehicles full of cops. In Silistea, the road is blocked with fences and gendarmes that guard them fiercely. In order to pass the fences, we had to say that we head to a town further away from Pungesti. We did not know that we couldn't get to the camp [where people are resisting]. We have to return to Silistea, where few people support the Resistance and have banners. We're trying to find efficient solutions, it's horrible what's happening here. Chevron is setting up the installations, they have all their machines on the field. Please let's mobilise and go there! People are beaten up and scared. Share!"
Children cannot go to school at this point. The life of the entire community has been severely disrupted. The road is also blocked for anyone else, the villagers cannot go to work and the press is kept kilometres away from Pungesti. All this was planned in detail by the local authorities, the Police and Chevron in order to help the company install its shale gas exploring equipment on the site despite prior official statement from Chevron country manager Tom Holst to halt any activity until the community agrees with the project. The same equipment will be used for the exploitation phase as well.
This abusive intervention follows two months of continuous harassment and intimidation of the local community. It is an irresponsible, dangerous attack on human and civil rights, as recognized worldwide. All this is happening in a context of large 3 months nationwide (and international) protests against fracking and cyanide use in Romania.
Please spread the news and help us raise awareness on this difficult situation in Romania.
Links:
http://www.gazedesist.ro/?sLang=en