08.03: International Women's Day – We Refuse to be Servants! – Nem leszünk szolgák!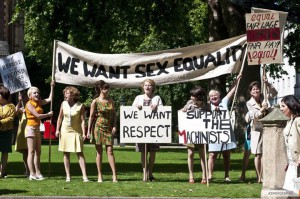 Today is International Women's Day! Come to Corvin Negyed at 16.00 and bring a pot or a pan with you, so we can create a feminist orchestra to disrupt the comfortable silence and united voice our demands!
WE REFUSE TO BE SERVANTS!
This Saturday, on the 8th of March, we will celebrate the International Women's Day in Budapest with a loud feminist march. Starting at 16.00 o'clock, from Corvin Negyed we will walk through the city centre to Klauzal Ter, beating on pots and pans to make noise and finally break the silence about women's existence, and working conditions! Freedom – equality – feminism!
We, women, together with our allies, refuse to be anybody's servants!
Woman is at first a human being and not a kind of a human, i.e. a derivative of a man. If women were primarily considered a human, universal human, just like a man is, we would consider the crimes against the women as a crimes against humanity and not as a second class offences, or as a national folklore. The average of 16 % less payment than the man earns for the same work, is a first degree crime in EU. This means that women work 59 days per year literally for free! The gender pay gap in Hungary is one of the highest in Europe. We demand equal pay for equal work!
We demand equal share of responsibilities!
None of us was born a woman. The woman is a product, the effect of a human civilisation and its history, its material productions, and is not its birthgiver. There is no essence of women, no nature of women, we refuse any such eternal biological grounds to our beings. Therefore, the feminist revolution is not simply intended for "women", for "mothers", "daughters" but rather against the social construction of it.
Therefore feminism is not simply a vindication of the rights of women, it is a deconstruction of exactly this production of the oppressive culture of slavery named women and womanhood. We refuse to be the second sex in any sexual contract or in any life system. We refuse to be secondary in any sense! We refuse to be a synonym for gender in general. We say "no" to the everyday sexism that surrounds us.
During the economical crisis that neoliberalist capitalists made for all of us, the women, and especially young women are extremely harmed by it. The girls from the youngest age learn to become smaller and smaller while they grow up. Did you know that only 22% of women with children return to the workplace after giving birth? We are saying "no" to the "traditional" enslavement of women as housekeepers. We say, we have had enough. Did you know that 22% of women in Europe have experienced physical and or sexual violence?
Because no woman is a tool to any imperialist, capitalist, sexist and exploatative bulshit! My body is my property! My work is my property! Do you still want to offer me a flower today?
Down with the discrimination!
The 8th of march coalition
***********************************
NEM LESZÜNK SZOLGÁK!
Most szombaton, március 8-án, Budapesten hangos feminista menettel ünnepeljük a nemzetközi nőnapot. Négykor kezdünk, a Corvin-negyedtől sétálunk át a belvároson a Klauzál térre, miközben fazekakat és serpenyőket ütve keltünk hangzavart, hogy végre megtörjük a nők élet- és munkakörülményeit leplező csöndet! Szabadság – egyenlőség – feminizmus!
Mi, nők, a támogatóinkkal egyetemben, senkinek sem szolgálunk többet!
A nő elsősorban emberi lény, nem pedig egy emberféle, avagy férfiszármazék. Ha a nőket elsősorban embernek tekintenék, mindenre képes embernek, pont mint a férfit, akkor a nők ellen elkövetett bűncselekményeket az emberiség ellen elkövetett bűncselekménynek tekintenénk, nempedig másodrangú kihágásnak vagy nemzeti népszokásnak. A nők az azonos munkát végző férfiakénál átlagosan 16 %-kal alacsonyabb fizetése az egyik legsúlyosabb bűn az Európai Unióban. Ez azt jelenti, hogy a nők évente 59 napig szó szerint ingyen dolgoznak! Magyarországon a nemek közötti bérszakadék az egyik legmagasabb Európában. Egyenlő munkáért egyenlő bért! Egyenlő felelősségvállalást!
Egyikünk sem született nőként. A "nő" egy termék, az emberi civilizáció és történelem anyagi megvalósulása, nem pedig a megszülője. Nem létezik női lényeg, női természet – visszautasítjuk a létezésünk örökösen biológiailag meghatározott alapjait. Épp ezért a feminista forradalom nem egyszerűen a "nőknek", az "anyáknak" vagy "lányoknak" szól, hanem a társadalmi konstrukció ellen irányul.
A feminizmus nem egyszerűen a nők jogainak követeléséről, hanem a nőiségnek nevezett rabszolgaság elnyomó kultúrájának lebontásáról szól. Nem leszünk többé a második nem semmilyen szexuális szerződésben vagy az élet bármely más rendszerében. Semmilyen értelemben sem leszünk másodrendűek! Nemet mondunk a minket körülvevő, mindennapi szexizmusra.
A gazdasági válságot, amit a neoliberális kapitalisták okoztak mindannyiunknak, a nők, különösképp a fiatal nők igazán megszenvedik. A legfiatalabb lányok is azt tanulják, hogyan nőjenek egyre kisebbé és kisebbé, mialatt felnőtté válnak. Tudtad, hogy szülés után csak a kisgyerekes nők 22 %-a tér vissza a munkahelyére? Nemet mondunk a nők hagyományos rabszolgasorban tartására háztartásbeliként. Azt mondjuk, elég volt. Tudtad, hogy Európában a nők 22%-a tapasztalt már fizikai és/vagy szexuális erőszakot?
Mert egy nő sem eszköz imperialista, kapitalista, szexista és kiszolgáltató baromságoknak! Az én testem az én tulajdonom! Az én munkám az én tulajdonom! Még mindig szeretnél ma virágot adni nekem?
Le a diszkriminációval!
Gyere a Corvin-negyed bevásárlóközpontja elé szombaton délután négykor, hozz magaddal egy fazekat vagy serpenyőt, hogy feminista zenekart alkotva megtörjük a kényelem csöndjét és együtt hangoztassuk a követeléseinket!
A március 8-i összefogás